Nursing with Norma – MARCH 2018
Hello friends of Norma! Hope you have been well
Adventures at the Vet hospital continue everyday – Dr Hamish keeps saying that the busy period is over, but I think he is telling me fibs! Its ok though, because every day is different – we never know what might walk in the door …. This month I even met a Koala!
We also have ANOTHER tiny kitten that my fellow Nurses are raising…. I like this one, she is so small and fluffy- and she doesn't chase me like the last ones did! The Vets had to amputate her tail due to injury and she has recovered well! I told her that it is ok because it makes her look like a Manx! It will be a little while before she will be grown up enough to find a forever home, so I have time to teach her how to be a real cat!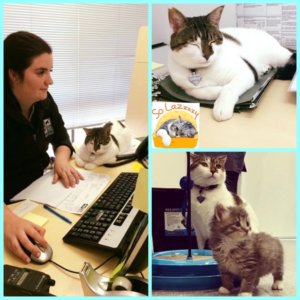 I honestly don't know where the staff find these kittens!?! I'm certain that in the past 5 months we must have raised AND found homes for around 25 cats! I guess I should feel very lucky that the staff take the time to rehabilitate and find the right home for each one….and they found the best home with the biggest family for ME!
Sad news this month, I failed my weigh in. I've put on half a kilo! That takes me up to 5.5kg! The staff had to have a meeting about me during our daily hospital rounds and decided that I need to go back on a diet!
I am upset about this and I have a few things I would like to say:
1. I am not a "Chunky -Monkey" and I do object to this being my temporary nickname! AND I would also like to state for the record that I do NOT have a tummy that, when I sit, "Resembles a male Emperor Penguin incubating an egg."!!
2. I already know how to sit, beg and recently learned to do a "High-5" on command- so I earned every single one of those delicious treats.
And 3. If the staff don't want me helping myself to the Schmacko's on the reception desk, they should remember to put the lid back on the container!
Although, I will admit, that I don't mind the evening cardio sessions (which involves running multiple laps of upstairs, chasing a human waving my 'fish-on-a-string' toy) …… so long as I've had at least 9 hours sleep beforehand!
This week the clinic also welcomed a new Vet! Amanda-Lee will be joining us on Mondays and Tuesdays as of next week! Rest assured everyone, I watched her very closely on Tuesday- and, even though I had my game face on, she gave me some pats, a few treats (I didn't tell her about my diet HAHAHA) AND she let me sleep on her handbag! I must admit that she won me over. Plus, a clinic cat can never have enough servants…Err, I mean family members.
Well that's all from me for now, I am well overdue for a nap but there is some filing being attempted that I had better go and supervise. It's a tough job sometimes!
Until next time,
Norma xx