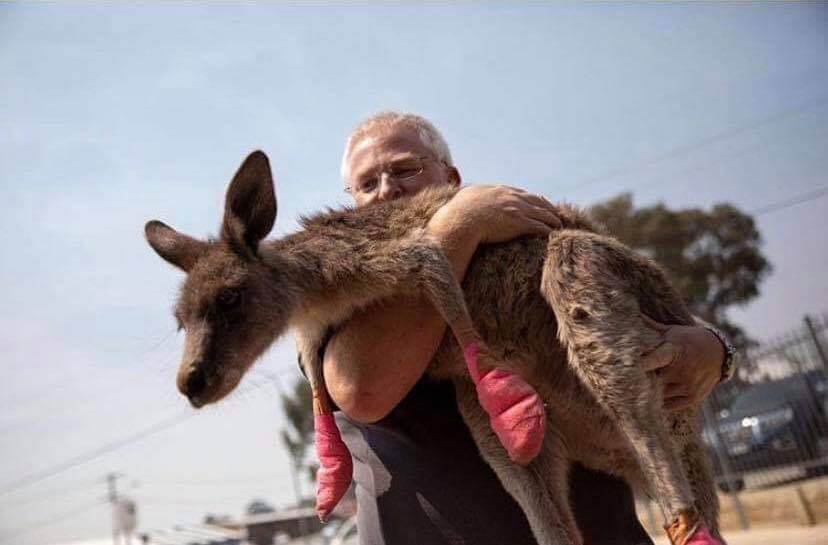 Nursing with Norma- February 2020 🚒🐨🐾
Hello friends! Lots to report this month, I've even been on a holiday!!! As most of you know the clinic was evacuated due to fire 3 days in a row! And we stayed closed on the third day…which- considering that we only close 3 days a year- was a BIG DEAL!!!
I'm so proud of my vet family- they were all so calm despite the ash and burnt leaves falling outside the building! During our first evacuation the nurses safely move all the boarding cats from the cattery to another facility in Queanbeyan. The small Labrador puppy "Bonnie" was crated and taken to one of the nurses' houses for some TLC overnight (apparently she was a very good girl!) And I got put into a small cat carrier (like some sort of ordinary cat), transported into an unfamiliar vehicle and driven away from my home!!!! Dear readers, I SCREAMED FOR THE DURATION OF THAT 5 MINUTE CAR TRIP…. Dr Philo (my driver, who was trying desperately to comfort me) was not amused! I spent the first night on the couch watching TV with Dr Philo, his wife and BARNEY -that disgustingly cute Golden Retriever puppy. (And, no, I still have not forgiven him for dribbling on my scratching lounge. Barney…. Not Dr Philo! HAHAHA).
The next morning I was bundled back into that tiny cat carrier and Dr Philo (who thought my visit had gone smoothly) said he was taking me back to my home! At this point dear readers, it is essential that you know that Dr Philo- who has never owned a cat- forgot to put a new towel in my carrier…. Nor did he give me time to have my morning poop……. And the result was humiliating…….6 minutes later, the nurses had to wash my smelly toe beans and wet underbelly ☹.
Unfortunately, my day did not improve. A couple hours later -just as I was drying off- the fire evacuation notices came through once again. The staff said they could see the flames down behind the railway lines!! Once again our patients were evacuated (thank you to all of the clients who were able to come and give my family a hand!) and I was forced back into the same tiny cat carrier and put in the back of another unfamiliar car!! I was whisked away to safety and spent the next 2 nights sleeping on the bed, curled up with our head nurse! She said that, although I snore quite loudly and I did poop in my carrier again, overall, I was a good house mate!
For now, things are back to normal around the hospital. Well…. kind of?! Dr Brett has been called up with the army reserve to help with injured wildlife and will be gone for up to 4 weeks!! In the clinic we have been treating quite a few patients suffering burns and malnourishment after the bushfires. There have been a few days where the hallway has been filled with a line of koalas! The staff have had the added challenge of bandaging tiny burnt paws that are smaller than a thumbnail, wrestling with large Kangaroos, and having a TV Documentary crew in filming!! I thought they were here to make a show about a Top Clinic Cat…. And, personally, I think my story is just as interesting as the Koala Detection Dog 😉 but I'm not sure that anyone agrees with me on that…. especially when I have a fuzzy 1.5kg Baby Koala as my competition!!!
My last dramatic news for this month is that I've been evicted from my bedroom and all my toys have been taken away. Ok, well not ALL of them…. And more like "rotated" I guess. My new bedroom was actually my first bedroom- back when we were renovating!! Sadly, the only toys that fit in my new/old room are my 1.2m cat tower, feather wand, scratching lounge, crinkle ball, water fountain, cat pod and my treat tower ☹. To make up for this, the nurses have finally convinced Dr Hamish to install some wall mounted cat shelves for me!!!! YYYYYYYAAAAAAAAYYYYYYYYY!!!!
Well that's probably all from me for now, a little Jack Russell has just arrived after being bitten by a brown snake so they will need all hands -and paws- on deck to help her out!
Until next time,
Norma xx
Nursing with Norma – February 2020 Evacuation & Wildlife Edition!

Nursing with Norma- February 2020 🚒🐨🐾Hello friends! Lots to report this month, I've even been on a holiday!!! As most of you know the clinic was evacuated due to fire 3 days in a row! And we stayed closed on the third day…which- considering that we only close 3 days a year- was a BIG DEAL!!!I'm so proud of my vet family- they were all so calm despite the ash and burnt leaves falling outside the building! During our first evacuation the nurses safely move all the boarding cats from the cattery to another facility in Queanbeyan. The small Labrador puppy "Bonnie" was crated and taken to one of the nurses' houses for some TLC overnight (apparently she was a very good girl!) And I got put into a small cat carrier (like some sort of ordinary cat), transported into an unfamiliar vehicle and driven away from my home!!!! Dear readers, I SCREAMED FOR THE DURATION OF THAT 5 MINUTE CAR TRIP…. Dr Philo (my driver, who was trying desperately to comfort me) was not amused! I spent the first night on the couch watching TV with Dr Philo, his wife and BARNEY -that disgustingly cute Golden Retriever puppy. (And, no, I still have not forgiven him for dribbling on my scratching lounge. Barney…. Not Dr Philo! HAHAHA).The next morning I was bundled back into that tiny cat carrier and Dr Philo (who thought my visit had gone smoothly) said he was taking me back to my home! At this point dear readers, it is essential that you know that Dr Philo- who has never owned a cat- forgot to put a new towel in my carrier…. Nor did he give me time to have my morning poop……. And the result was humiliating…….6 minutes later, the nurses had to wash my smelly toe beans and wet underbelly ☹.Unfortunately, my day did not improve. A couple hours later -just as I was drying off- the fire evacuation notices came through once again. The staff said they could see the flames down behind the railway lines!! Once again our patients were evacuated (thank you to all of the clients who were able to come and give my family a hand!) and I was forced back into the same tiny cat carrier and put in the back of another unfamiliar car!! I was whisked away to safety and spent the next 2 nights sleeping on the bed, curled up with our head nurse! She said that, although I snore quite loudly and I did poop in my carrier again, overall, I was a good house mate!For now, things are back to normal around the hospital. Well…. kind of?! Dr Brett has been called up with the army reserve to help with injured wildlife and will be gone for up to 4 weeks!! In the clinic we have been treating quite a few patients suffering burns and malnourishment after the bushfires. There have been a few days where the hallway has been filled with a line of koalas! The staff have had the added challenge of bandaging tiny burnt paws that are smaller than a thumbnail, wrestling with large Kangaroos, and having a TV Documentary crew in filming!! I thought they were here to make a show about a Top Clinic Cat…. And, personally, I think my story is just as interesting as the Koala Detection Dog 😉 but I'm not sure that anyone agrees with me on that…. especially when I have a fuzzy 1.5kg Baby Koala as my competition!!!My last dramatic news for this month is that I've been evicted from my bedroom and all my toys have been taken away. Ok, well not ALL of them…. And more like "rotated" I guess. My new bedroom was actually my first bedroom- back when we were renovating!! Sadly, the only toys that fit in my new/old room are my 1.2m cat tower, feather wand, scratching lounge, crinkle ball, water fountain, cat pod and my treat tower ☹. To make up for this, the nurses have finally convinced Dr Hamish to install some wall mounted cat shelves for me!!!! YYYYYYYAAAAAAAAYYYYYYYYY!!!!Well that's probably all from me for now, a little Jack Russell has just arrived after being bitten by a brown snake so they will need all hands -and paws- on deck to help her out!Until next time,Norma xx

Posted by West Queanbeyan Veterinary Hospital on Friday, February 14, 2020