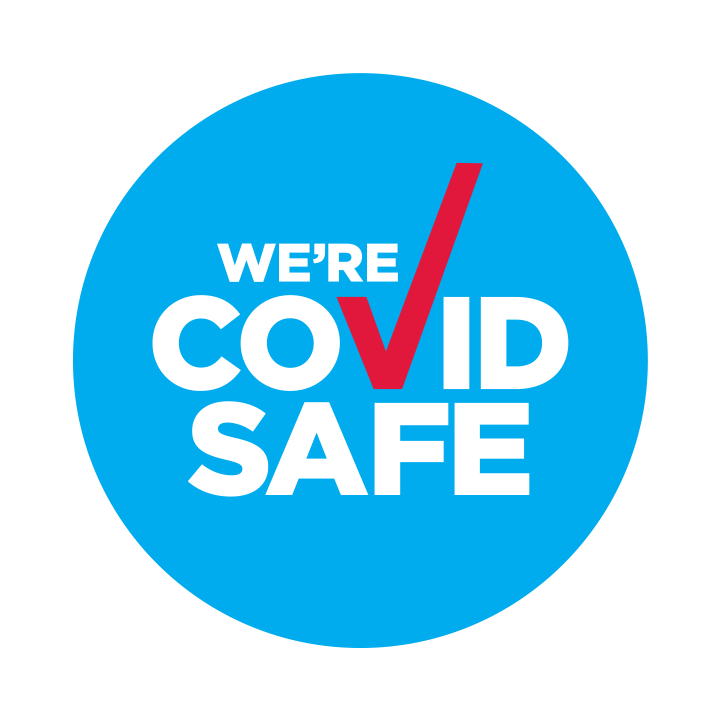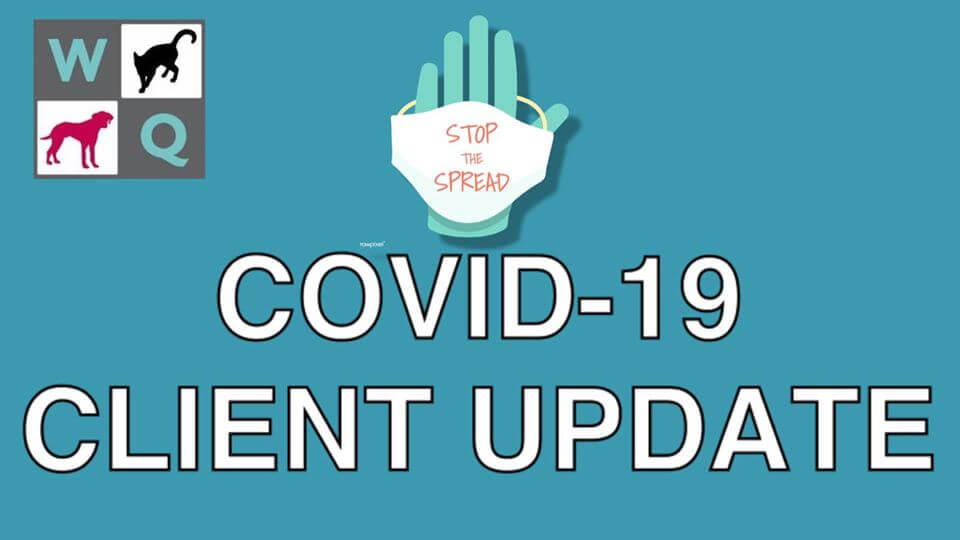 ZERO CONTACT CONSULTATIONS
🚨

COVID-19 Update

🚨    26th June 2021
As per the current advice and restrictions imposed by the NSW Government today 26th June 2021, WQVH will require ALL clients to be aware of the following Conditions of Entry to the clinic:
 On arrival remain in your car.
Check in using the QR Code located on bollards
Call
the clinic to advise of your arrival 6297 5542
Face Masks MUST be worn when entering the clinic –        please ensure they are on BEFORE exiting your car.
STRICTLY 1 person per pet will be permitted to attend consultations. If you wish for someone else to be a part of the consultation, you are welcome to call them on your phone and have them on loud speaker during the consultation.   **EXCEPTION** should you have a child with you they are permitted to attend the consult – please be aware the consult rooms are not large and the 4 square meter rule applies so where possible, we encourage you to find alternative care whilst attending the clinic or bring along someone to remain in the vehicle with your children.
If you are unwell and your pet needs care, we ask that you advise our reception team and arrange for a 'well' person to bring your pet to the clinic. If this is not possible, please advise our reception team and we can make alternate arrangements.
WQVH thanks you for your continued patience and understanding during this time
.    
ZERO CONTACT CONSULTATIONS
🚨COVID-19 Update🚨   15th May 2020
At WQVH we take the current COVID-19 situation seriously and the safety of our staff, our clients, and our responsibility to the community accordingly. Whilst restrictions may have started to ease slightly for the broader community, Coronavirus still exists and the rules around social distancing remain. Our ability to adhere to the social distancing rules within the confines of the hospital is limited. As a result we are planning to continue to operate our current "Contactless Consulting Mode" until the end of May with a view to begin slowly allowing a limited number of clients back into the building on a case by case basis from June. This will be reviewed on a weekly basis in relation to any changes in government guidelines. Further updates will be posted during the last week of May to confirm what, when and how we intend to allow greater access to within the hospital. The last couple of months have been challenging for everyone and we would like to take this opportunity to thank all our fabulous staff for their incredibly hard work under difficult circumstances and our wonderful clients for their understanding and patience. We look forward to reconnecting with people face to face over the next few months!
Dr Hamish Cameron, Nurse Norma and the team at WQVH
Your Title Goes Here
🚨COVID-19 Update🚨   25th March 2020
Our main priority is the health and safety of our community, both pets and people. To make sure we can stay open and are able to help your pet, we need to keep our staff healthy and safe. Being a veterinary hospital, we already have strict procedures in place to keep the environment clean and disinfected.   To assist us in minimizing risk of spread of COVID-19, please keep the following in mind.
If you are quarantined, potentially exposed or feeling unwell, please call and reschedule until you are well.
If the appointment is urgent but you are quarantined, potentially exposed or feeling unwell, please let us know when you are booking your appointment and we will advise on what measure we will need to take to help.
Even if you are healthy and have no symptoms when visiting us please come in alone (one person per pet) where possible. Please also use the hand sanitizer provided at reception.
If you are concerned and want to minimize time spent in populated areas call us when you arrive in the car park. We will return your call when your consult room is available.
Please be assured there is no evidence that pets can contract COVID-19. Coronavirus in cats and dogs are very different diseases and have been around for a long time. They do not pose a threat to humans and are gastrointestinal rather than respiratory viruses.
We are operating as normal but there is the possibility as the situation develops that the way we operate may change. We will keep you updated as much as possible.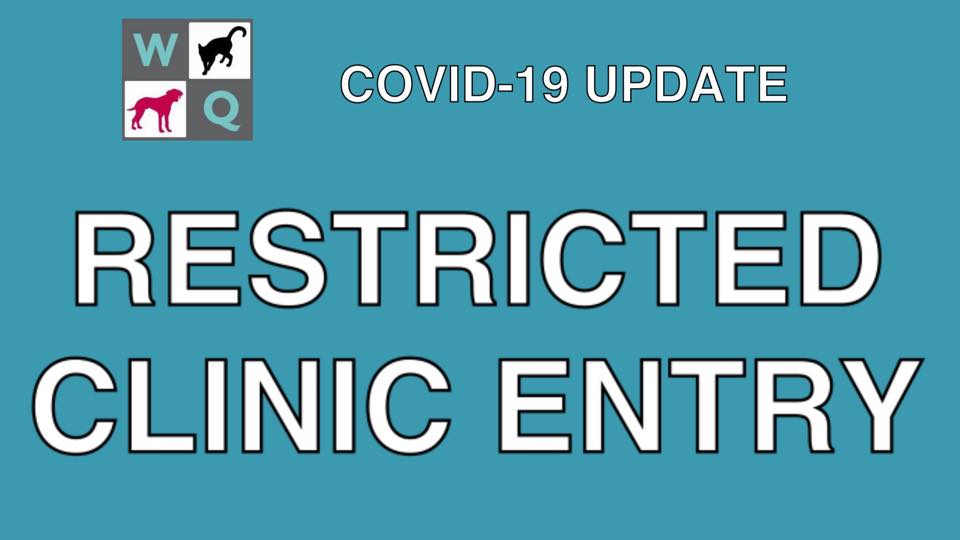 WQVH IS RESTRICTING TRAFFIC THROUGH THE CLINIC
🚨COVID-19 Update🚨   25th March 2020
To help stop the spread of COVID-19, WQVH will be abiding with social distancing and restricting entry to the clinic.
* If you have an appt, collecting your pet or picking up an order:
– Please remain in your car upon arrival to the
clinic,and
– Call the clinic to advise of your arrival.
6297 5542
A member of staff will direct you once a consultation room becomes available.
We apologise for any inconvenience this may cause and appreciate your understanding during this time.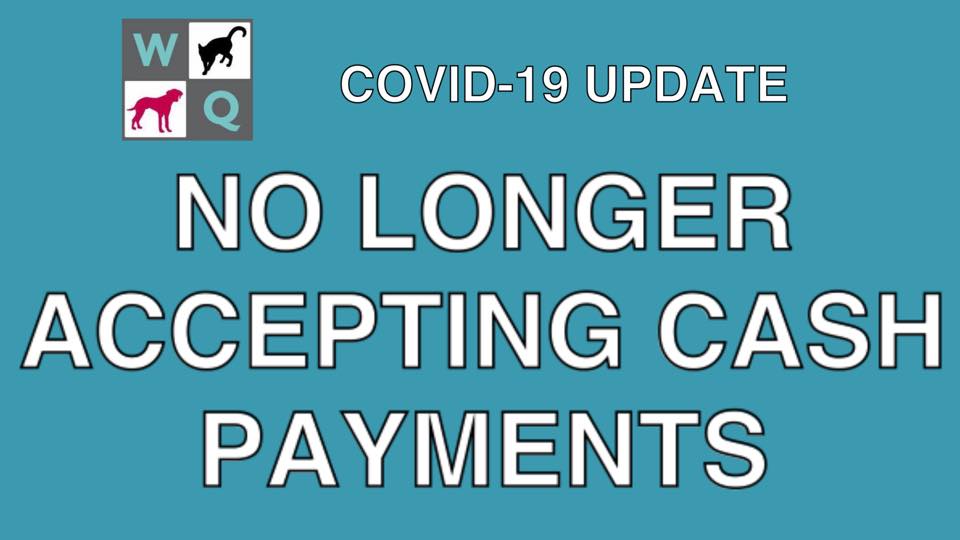 WQVH IS NOT ACCEPTING CASH PAYMENTS
🚨COVID-19 Update🚨   23rd March 2020
In an effort to help stop the spread of COVID-19, protect staff and our community, WQVH, will no longer be accepting payment in the form of Cash.
We will continue to accept payment via our preferred eftpos method – we accept:
* MasterCard
* Visa
* American Express
We apologise for any inconvenience this may cause and appreciate your understanding during this time.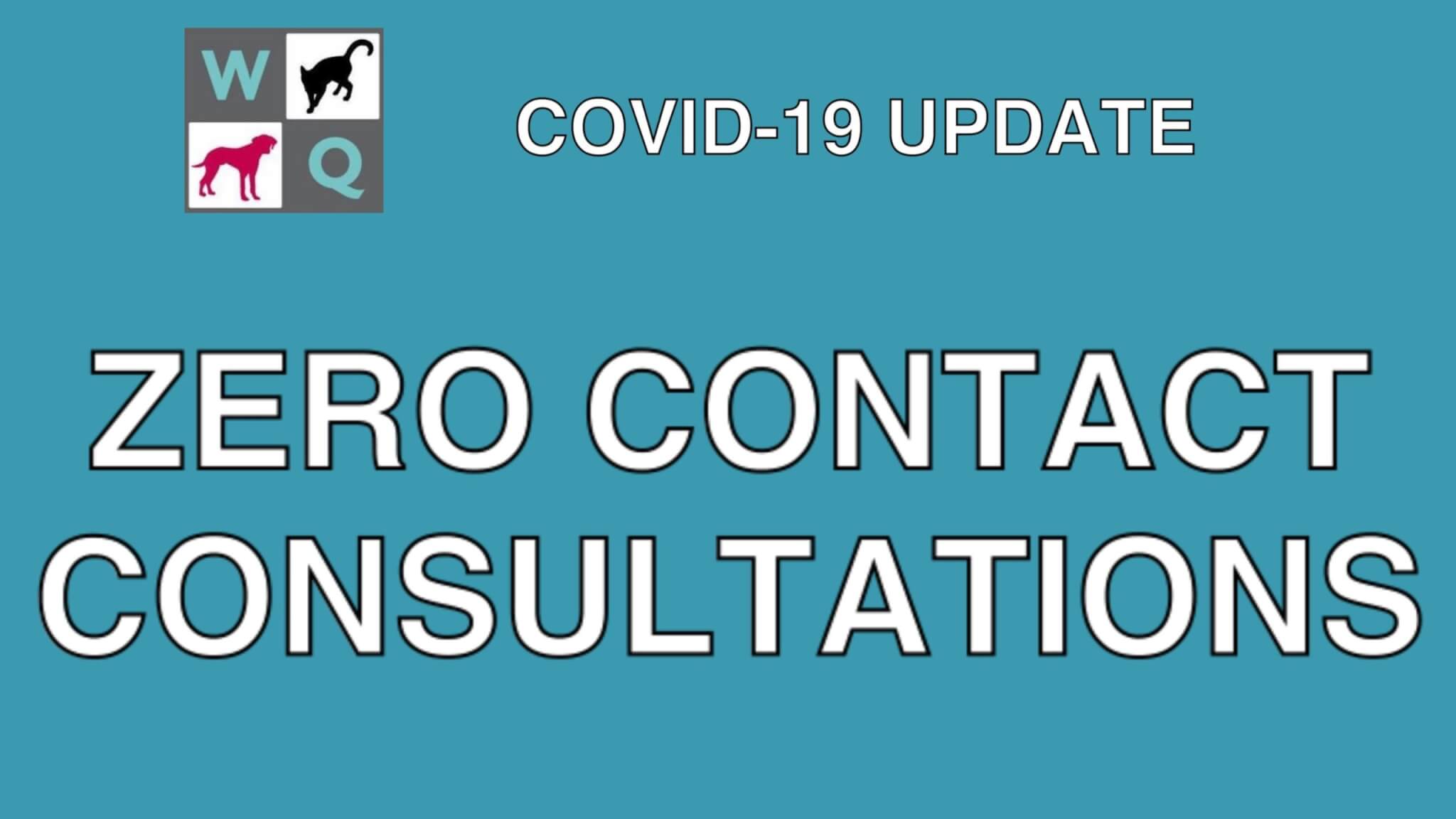 ZERO CONTACT CONSULTATIONS
🚨COVID-19 Update🚨   17th March 2020
To our valued clients regarding COVID19. Things have changed significantly since are last update and continue to evolve rapidly. Please do no worry, we will continue to be open to help you and your pet when you need us the most. However, in order to continue to service you we are transitioning to zero contact consults. This is a measure we have taken to give us every opportunity to stay open over the next few months to continue to look after you and your fur family.
WHENEVER you visit the clinic – if you have an appointment, are collecting or dropping off your pet, or picking up food or medication please help us by staying in your car and calling the clinic to advise you have arrived.
If you are booked in for a consultation, dropping off or picking up your pet:
• Please ring upon arrival and you will speak with the vet via the phone.
• A nurse will come out and collect your pet.
• The vet will then perform whatever is required and discussed.
• The vet will call you to update you and discuss finding and plan moving forward.
• The nurse will bring your pet back to the car.
• If you can pay over the phone via credit card that would be fabulous and you don't need to leave the comfort of your front seat for the entire process. If you are paying via eftpos then you will need to enter the clinic to pay, however we are working hard to make this entire process remote.
If you have medications to pick please phone the clinic and a lovely staff member will organise to bring them to your car.
Our practice is committed to the health and safety of our team, out clients, patients and vulnerable members of our community. The policies may need to stay in place for a number of months and we are committed to staying open to be here for you and your family. Above all stay safe and well and follow government guidelines. IF you have any concerns, please pick up the phone and call our wonderful team so we can find a way to help you. Together we will get though this challenging time.
Thank you all for your understanding and patients while we navigate this new normal.
Many thanks,
Dr Hamish Cameron, Nurse Norma and the team at WQVH